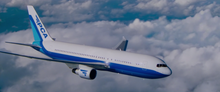 Pan-Continental Airlines (also known as PCA for short) is an airline that appears in the 2014 apocalyptic thriller film Left Behind.
The airline plays a major role in the film, since one of the main characters is a pilot. A small group of survivors are left behind after millions of people suddenly vanish and the world is plunged into chaos and destruction. It is assumed that PCA is an american airline.
Based on the airlines' name, it may be a crossover with Continental Airlines and Pan American World Airways while the livery bears a strong resemblance to that used on Eastern Air Lines.
The aircraft seen is a Boeing 767 with unusually small winglets. However, other shots show an Airbus A330.
Community content is available under
CC-BY-SA
unless otherwise noted.